Sweetwater Eco Spa…
…is one of our signature offerings here in Mendocino.  We urge you to take advantage of your stay with us by booking a soothing massage or a relaxing interlude in one of our hot-tubs and saunas.  Call us at 707-937-4140 or directly at Sweetwater Eco Spa to reserve either a private hot-tub suite with an infrared sauna and shower, or a private hot-tub with the communal traditional Red Cedar sauna.
We are especially proud of our long standing and renovated 8' Redwood hot tub (clothing optional). Book a hot tub with our Sweetwater Eco Spa prior to enjoying a soothing massage treatment from one of our talented therapists. It is advised to book ahead of time from one to two weeks of your stay, especially during the summer months.
Pet-friendly Accommodations
We also love our pets and are fond of taking our pets (especially dogs) along with us on vacations. We have made sure that at least some of our rooms are pet friendly.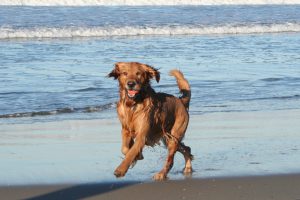 So, if you are traveling with your four-footed friend, we try to make your life a little easier by preparing a little doggy-basket for them.
It's just a small assortment of towels and sheets that'll help you dry him/her off after a romp in the ocean or clean paws after an afternoon of digging on the beach. Oh, and we also put some little doggy-treats in basket to reward them for their good behavior!
Sorry, but we can't accommodate cats or other pets at this time.