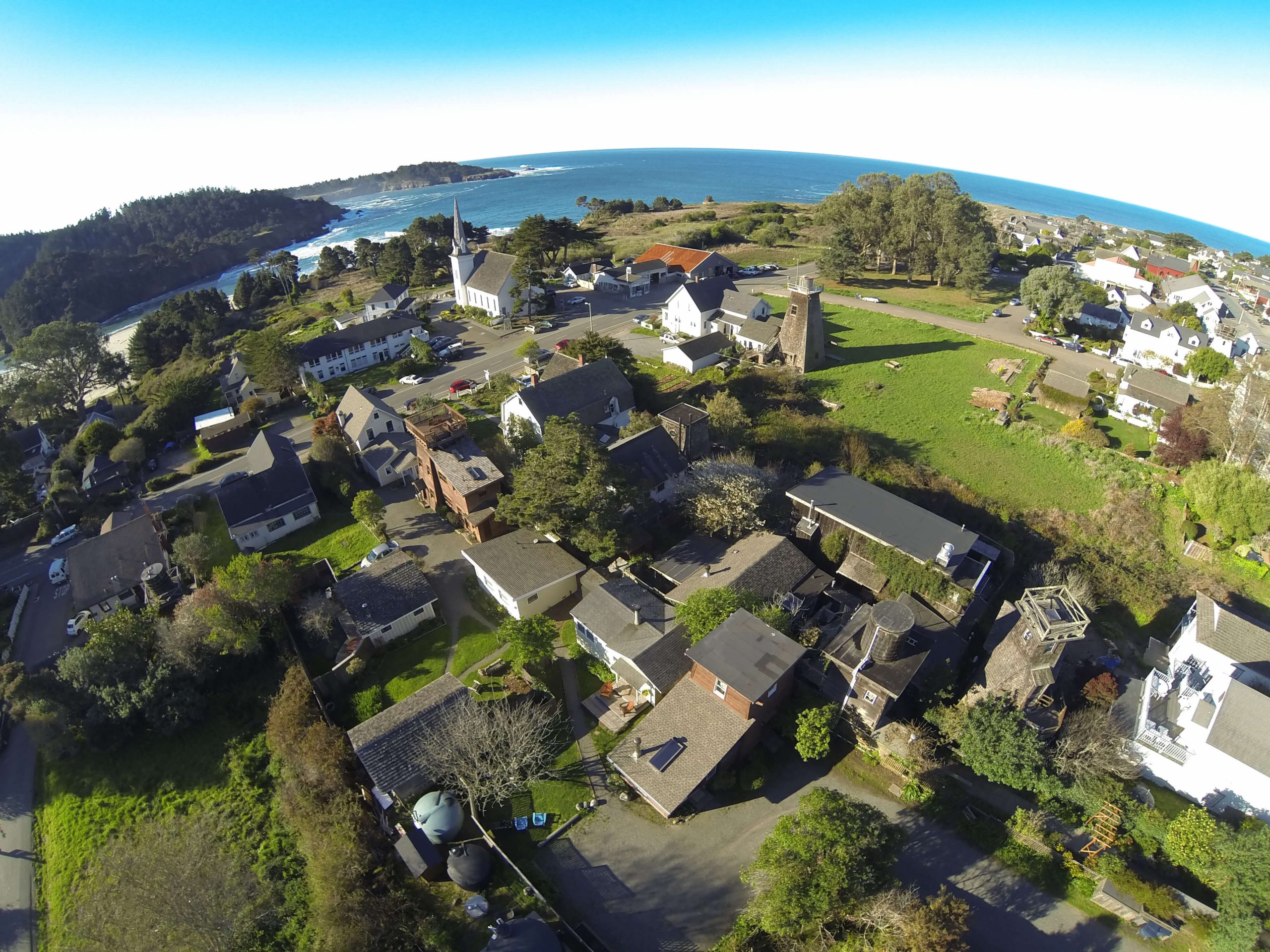 Fine Dining
In the Village of Mendocino
955 Ukiah Street Restaurant
Located right next door to us. Fine dining with a wide ranging menu served in a former art gallery.  Jamie and Peggy know how to do it!
Café Beaujolais
Located right next door to us. Fine gourmet dining, with a great reputation. On site brick oven bakery, eclectic gardens.
Mendocino Café
1 blocks away. In a casual setting, there is local art on the walls, local residents at the tables, and great food on the plates some organic ingredients.
Flow
2 blocks away. One of the newest restaurants in Mendocino. Beautiful view of the Mendocino headlands overlooking Mendocino Bay. Menus are innovative and feature a full bar.
MacCallum House Restaurant
2 blocks away. Fine dining in a Victorian setting, or café/bar dining in an ocean view glassed-in porch. Fresh organic ingredients, thoughtfully prepared.
Mendocino Hotel
2 blocks away. Elegant Victorian dining room in the historic Hotel. Have a drink with the locals in the beautiful bar/lobby or relax by the fire in the lobby.
Trillium
3 blocks away. A changing seasonal menu focused on locally sourced ingredients with friendly, efficient service, and attention to detail. Some ocean view tables.
The Ravens Restaurant at the Stanford Inn
1 mile south of the village. Excellent and imaginative vegan food made from fresh organic ingredients in a beautiful setting with ocean, river and forest views. So tasty, even omnivores will enjoy it!
Little River
Little River Inn Restaurant
3 miles south. Great food and a view of the Inn's beautiful garden or eat at the bar with an excellent ocean view.
Wild Fish
3 miles south. Great seafood in an intimate atmosphere with ocean views.
Albion
Albion River Inn
15 minutes south. Bluff top ocean view restaurant serving consistently great food. Amazing wine list, helpful wait staff , live music.
Ledford House
16 minutes south. Bluff top restaurant featuring gourmet food, spectacular views, and the chef's art on the walls, too. Live music.
Activities
Kayaking
Kayak Mendocino
707-937-0700 www.kayakmendocino.com Out of Van Damme State Park, Little River. Sea Caves, Nature Tours, All Ages Welcome, No Experience Necessary
Catch a Canoe
707-937-0273 www.catchacanoe.com Kayaks, Canoes and Bicycles Out of Big River, Mendocino. Rentals and Tours, Hike and Bike Trail Maps
Liquid Fusion Kayaking
707-962-1623 http:///www.liquidfusionkayak.com From Mild to Wild! Kayak Adventures out of Noyo River, Fort Bragg. Kayak Classes offered, Ocean or River Kayaking
SURFING AND DIVING
Sub Surface Progression
707-964-3793 www.subsurfaceprogression.com Complete Dive Center and Surf Shop in Ft. Bragg. Sales and Rentals
Lost Surf Shack
707-961-0889 Surfboard Sales and Rentals in Ft. Bragg. Beachwear and Accessories
FISHING AND WHALE WATCHING
Noyo Fishing Center
707-964-3000 www.fortbraggfishing.com Full Service Charter Fishing and Eco Tours, Year Round Whale Watching. Noyo Harbor, Ft. Bragg
Rumblefish
707-964-3000 www.fortbraggfishing.com Fishing The North Coast and Shelter Cove Area Bait Furnished, Whale Watching, Offering Memorial Services At Sea. Noyo Harbor, Ft. Bragg
Telstar Charters
707-964-8770 www.gooceanfishing.com Fishing, Crabbing and Whale Watching Excursions. Noyo Harbor, Ft. Bragg
WALKING / HIKING / BIKING
Mendocino Coast Botanical Gardens
707-964-4352 www.gardenbythesea.org Walk Through Gardens of Rhododendrons to the Ocean, Dahlias, Children's Adventure Trail, Gift Shop, Nursery, Dog Friendly Hiking Trails
Big River Haul Road
Big River Tidal Estuary, Bird Watching, Great Walking and Biking Kayaking, Canoeing, Dog Friendly Hiking
Big River Interpretive Walks
With The Mendocino Land Trust Docents 707-962-0470
Historical Walking Tour of Mendocino
With Kelly House Museum Docents 707-937-5791
Russian Gulch State Park
36 ft. Waterfall in Redwoods, Beach, Dog Friendly on Beach Only
Van Damme State Park
Fern Canyon Trail to Pygmy Forest, Beach, Dog Friendly on Beach Only
Jackson State Forest
Hiking and Mountain Biking, Dog Friendly Hiking Trails
Catch a Canoe and Bicycle Too!
707-937-0273 Mountain or Comfort Bicycles – Sales and Rentals Bike and Hike Trail Maps
HORSEBACK RIDING

Ricochet Ridge
707-964-7669 Guided Horseback Riding on the Beach or Redwood Forest Just North of Ft. Bragg
Ross Ranch
707-877-1834 Guided Horseback Riding on the Beach or in the Forest in Elk.