Cliff House at Otter Point
The Cliff House at Otter Point is poised on the bluff overlooking the Pacific Ocean and is unlike any other vacation home on the coast!  Uniquely designed with three hexagonal structures surrounding an open spa deck with ocean views of crashing waves through the surrounding windows. It can accommodate up to eight adults in separate private to semi-private sleeping areas.  The west-most hexagon offers spectacular views up and down the coast, from the Cabrillo Lighthouse in the south to Todd Point in the north.
This vacation home is beautifully appointed throughout with a complete kitchen, 3 bathrooms, and several spacious living areas with a deck facing the ocean.
Due to this home's beautiful and enchanting location, we require a "Waiver of Responsibility" statement to be signed, prior to occupying the home, if you bring a child onto the property under 18 years of age.  The bluff is very tempting and steep…
A fully Refundable Damage Deposit and a one-time $300 Cleaning Fee applies.
Cliff House at Otter Point is Base Rated for four guests. Any guests over the Base Rate will be charged an Extra Guest Fee of $45 per person, per night, plus tax.
Not pet friendly.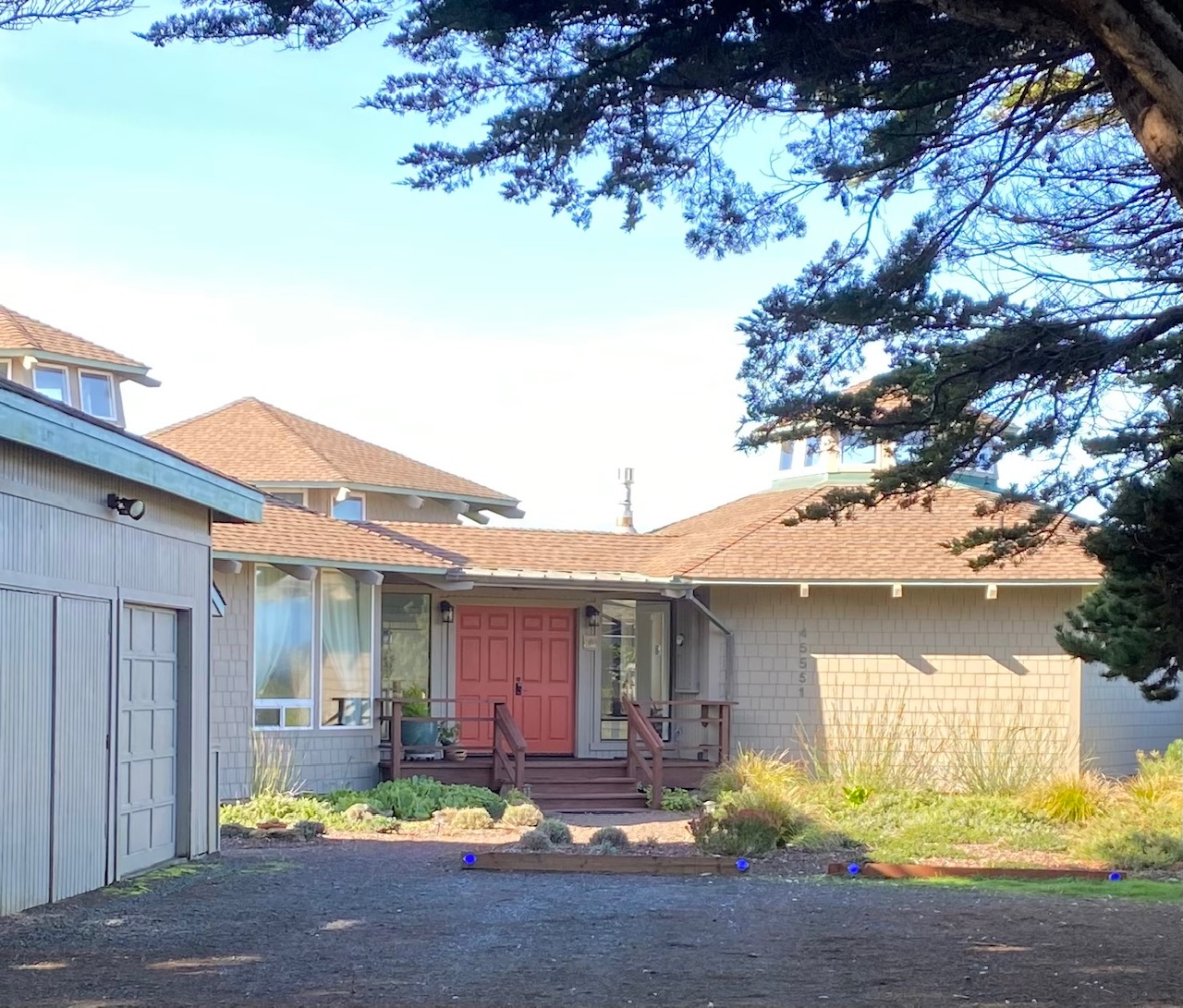 Cliff House at Otter Point
Amenities Cliff House offers:
Unique 3-hexagon structure surrounding an outdoor spa deck and hot-tub on a bluff overlooking the Pacific Ocean
1 King-sized bed in the master bedroom
1 Queen-sized bed in the upstairs loft bedroom
1 Queen-sized sleeper sofa downstairs
1 Futon double sleeper bed in private bedroom off the master bedroom
1 Twin-sized built-in bunk bed set in a private room – great for kids with ocean views
3 bathrooms
Fully equipped kitchen
3 Gas stove fireplaces
Activities Nearby:
Within 1/2 mile of Caspar Beach
Biking and hiking trails nearby
Close to Pt. Cabrillo Light House
Due to proximity of this property, located right on the bluff of the Pacific Ocean, we require that a "Waiver of Responsibility" be signed by the parents or guardians of minors staying on the property. This includes any day visitors.
"Talk about the best view ever!!! Right on the cliffs of the northern California coast. Great hiking trails, the town of Mendocino is lovely and a quick drive up to Fort Bragg for any essentials. The rental company was super easy to work with and we will be renting this house again."
Robert J. – Bay Area California
"What an amazing place. The location of the house is unbeatable. The views are astounding. There is always something to watch from the windows, whether it be the waves crashing on rocks, a boat passing by, whale spouts in the distance, or the light ever changing throughout the day. The house is well stocked, comfortable and with stunning views from every room. We hope to be back one day."